Integrated Optics is offering additional testing and measurement procedures! Our engineers can perform needed measurements for out-of-warranty lasers. We can also test lasers made by other manufacturers, if such laser is provided by the customer. Few examples of offered procedures are listed below:

Optical Power Characterization
Long-term power stability measurement. Measured in %RMS and peak-to-peak over 8 to 24 hrs. Tested using PM100D digital optical power meter and S401C thermal power sensor or S121C photodiode power sensor.


High-frequency noise characterization using a fast photodiode and a oscilloscope

Power stability over temperature cycling. Typically, cycling is performed between 10 and 50 degC.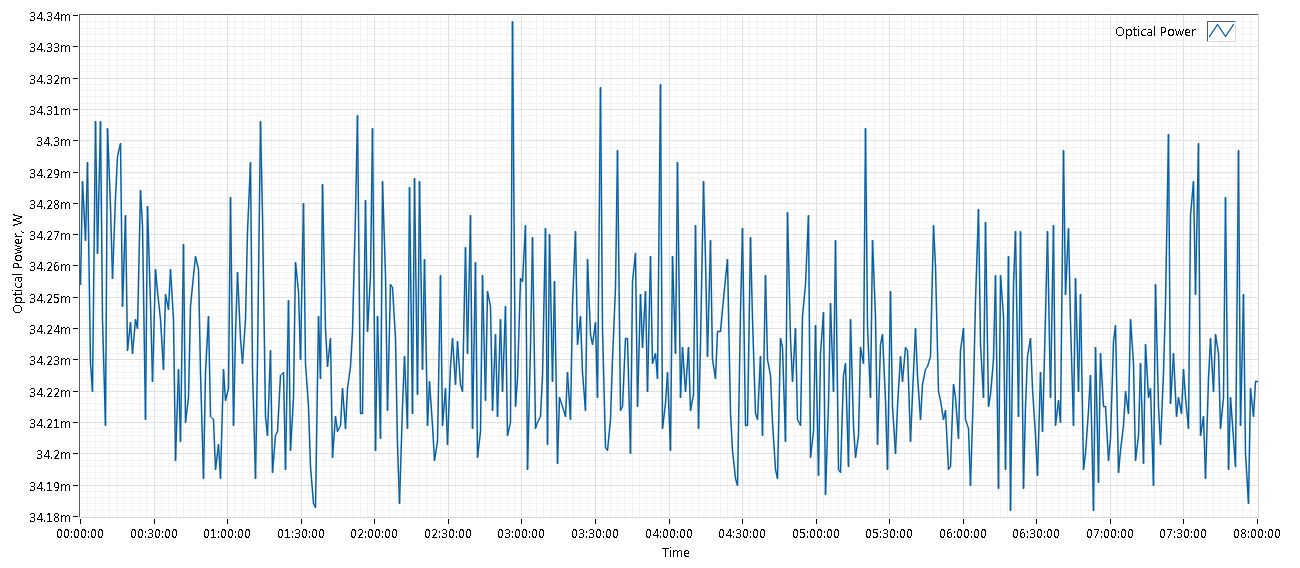 Spectrum Characterization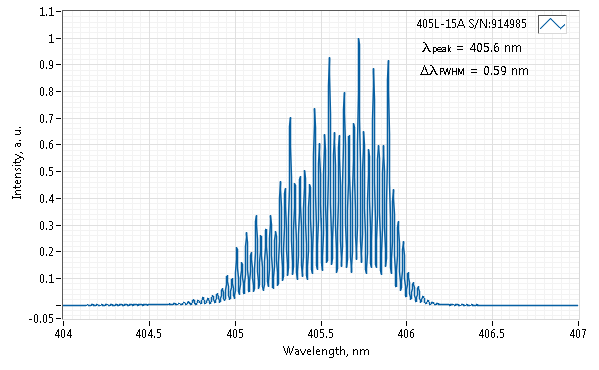 Spectrum measurement using an optical spectrum analyzer (center wavelength, spectral linewidth, SMSR). Tested using YOKOGAWA AQ6373 350 - 1200 nm or YOKOGAWA AQ6370 600 - 1700 nm

Spectral linewidth measurement using interferometer. Tested using interferometer SA 200-3B 350-535 nm – 1.5 GHz or SA210-5B 535-820 nm – 10 GHz

Center wavelength stability measurement over time (at constant temperature)


Center wavelength stability measurement over time (under thermal cycling)


Center wavelength repeatability test after laser on/off cycle

Polarization Characterization
Polarization contrast and direction measurement (free-space). Tested using Glan-Thompson polarizer

Polarization extinction ratio and direction measurement (PM fiber). Tested using Polarimeter

Polarization direction change upon deformation of a PM fiber. This test shows, how well is the optical axis of the PM fiber aligned to the direction of incident laser polarization. Tested using Polarimeter

Laser Beam Parameter Characterization
Beam profile pictures at 0.45 m and 3.75 m or other custom distances from aperture
Beam divergence measurement

M-squared (beam quality) measurement
Beam pointing stability measurement (μrad/degC)
Bore sight accuracy measurement

Laser Repair
Restore to factory settings and full laser testing
Out of warranty full laser troubleshooting (e.g., laser does not emit light)
Broken trace/contact soldering
Broken pin replacement
Output window replacement

Fiber connector polishing
Laser refurbishing
Optical power re-calibration of MatchBox2 lasers